Terschelling

A place in the heart
Perhaps my father was lucky. There is a place in the world that he called his own. It's a wonderful place that he could visit and remember and which never lost its essence throughout his own variegated life .
That place is Terschelling, an island off the northern coast of the Netherlands. It was the home of his father, Hinne de Jong, who was born there in 1896. So it was my father Herman's ancestral home, rooting back through Hinne to Kees to Doeke and beyond. For those generations, Terschelling, just 88 square kilometers large, was a world apart and a place to belong.
But Hinne left the island to serve in the First World War, and then to find work. He never lived there again, and neither, of course, would my father, who was born in 1932. Not all people who leave home care to return, but Hinne's heart stayed behind. He kept going back, later taking his family along with him for visits and vacations, and later even grandchildren, like my brother and I in 1974.
Hinne loved Terschelling, and these poems are as much about him as about the author Herman, who took that love from his dad, carried it across the ocean and passed it on to his children. There it is even more widely shared -- among the scattered de Jong cousins, and now their children, the island of Terschelling claims almost mythical significance.
continued below . . .
poem one
come he said
and walked quickly
ahead of us
to where our street
ended in a still
unused
cemetery
we walked
almost ran
like a gaggle of geese
following behind
quietly
for he was silent
when happy or
excited
as now
look he said
look to the horizon
and there .. . weakly sweeping
beams of light sketching on
the white whipped clouds
The Brandaris he said
we wanted to go back
to our beds
but he stayed
a little
longer
we lived in Winschoten
homesick
said our
mother.
gedicht een
kom zei hij
en vlug liep hij
voor ons aan
tot waar onze straat
eindigde in een nog
niet gebruikt
kerkhof
we liepen
renden bijna
als een rij ganzen
achter hem aan
heel stil
want hij was zwijgzaam
zelfs als hij blij of
opgewonden was
zoals nu
kijk zei hij
kijk naar de horizon
en daar .. .zwak zwevende
banen licht-tekenden
witte zwierten wolken af
De Brandaris zei hij
we wilden terug
naar onze bedden
maar hij bleef
nog even
achter
wij woonden in Winschoten
wenst
zei onze
moeder.
The Brandaris light-house on West Terschelling is 162 km away from Winschoten (
see map
)
poems (in Dutch) by
Herman de Jong
translated by
Henry de Jong
[Show English translation]
poem two
he had worked too hard
severe depression
go to Terschelling
the doctor said
fresh air
work with your hands
then
daughter fell seriously ill
and mother called
he must come
with the morning boat
at eleven that evening
he knelt by his bed
and prayed for healing
not with many words
still wrestling with God
at eleven that evening
we stood around her bed
she gasped for breath
fell suddenly asleep
the doctor said
this is the turning point
the morning boat left
he was not on board
poems (in Dutch) by
Herman de Jong
translated by
Henry de Jong
[Show English translation]
gedicht twee
hij had te hard gewerkt
zwaar overspannen
naar Terschelling
zei de dokter
frisse lucht
werken met je handen
toen
dochtertje zwaar ziek
en moeder belde
hij moest komen
met de morgenboot
elf uur 's avonds
hij knielde voor zijn bed
en bad voor genezing
niet met vele woorden
toch worstelen met God
elf uur 's avonds
wij stonden rondom het bedje
ze hijgde naar adem
viel plotseling in slaap
de dokter zei
dit is het keerpunt
de morgenboot vertrok
hij was niet aan boord
poem four
if you live in canada
forty years in canada
more than half of your life
spent in canada
it is a bit strange
that there are nights
marked by the pleasure
of dreams about Terschelling
I walk beside Dodemanskisten
walk through the dunes
to where a horse walked
in front of the cottage where Uncle Herman
lay to be cured of tb
though not
I walk behind the village
walk to the bunker
on the high dune with the mast
and below me is the village
with its yellow tower
I think I smile
smile in my sleep
I'm not sure I smile
I can not see myself
when I sleep smiling
but when I awake
after such a dream
pleasantly wake
in my bed in Canada
then I know for sure
that in the country where I live
through much sleeping thinking and smiling
in all those forty years
nothing has owned me
quite like the island
where I never lived
but only
spent vacations
that's crazy
no
remarkably
pitifully crazy
OK
gedicht vier
als je dan in canada woont
veertig jaar in canada woont
meer dan de helft van je leven
in canada woont
is het toch wel gek
dat er nachten zijn
dat je heel plezierig
over Terschelling droomt
loop ik langs Dodemanskisten
loop ik door het duin
naar de plek waar een paard liep
voor het huisje waar oom Herman
lag te genezen van tb
toch niet
loop ik achter het dorp
loop ik naar de bunker
op het hoge duin met de mast
en onder me het dorp
met haar gele toren
ik denk dat ik glimlach
glimlach in mijn slaap
ik weet niet of ik glimlach
ik kan me zelf niet zien
als ik glimlachende slaap
maar word ik wakker
word ik na zo'n droom
dan plezierig wakker
in mijn bed in Canada
dan weet ik heel precies
dat in het land waar ik woon
loop slaap denk en glimlach
in al die veertig jaar
mij niets zo eigen is geworden
als het eiland
waar ik nimmer woonde
alleen maar
vacanties doorbracht
dat is toch gek
nee
merkwaardig
gek-meewarig
OK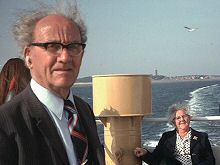 Poems one through three are about Herman's father Hinne, pictured here on the boat returning from Terschelling, whose tower can just be seen in the distance. (photo by Sense de Jong)
poem three
riding the train through Friesland
raisin buns
fields and cows
church towers in the distance
like pencil tips pressed
against sky-blue paper
he looked out
appraised the cows with his eyes,
saw water lying on the fields
and said there should be drainage
with cheerful face because he knew
that if you came through Friesland
on the 'Friesland'
then it was
for one intent
anticipating
the sight of brothers and sisters
even more
his Terschelling.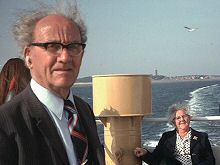 Poems one through three are about Herman's father Hinne, pictured here on the boat returning from Terschelling, whose tower can just be seen in the distance. (photo by Sense de Jong)
gedicht drie
met de trein door friesland
krentebollen
grasland en koeien
in de verte kerktorens
als potloodpunren gedrukt
tegen hel-blauw papier
hij keek naar buiten
mat de koeien met zijn ogen
zag water op het land
en zei waarom nu niet draineren
gezicht glunder want hij wist
dat je door friesland
op de 'friesland' kwam
daar was het hem
om te doen
hij keek er naar uit
broers en zusters te zien
meer nog
zijn Terschelling.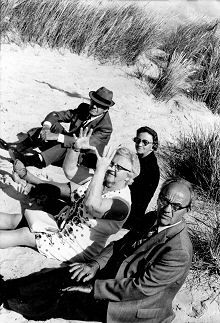 Hinne & Wine with siblings sitting by the sea near Paal 8 on Terschelling in 1974. (photo by hdj)
. . . continued
Relationships with Terschelling are varied. For Hinne it was home. For Wine (Win-uh), Herman, Sen-se and siblings, it was a place of regular recreation and reconnecting. For their descendants it is an idyllic vacation spot and a chapter in our history.
This strong love of a special place is really quite common. Perhaps the easiest comparison we have here to our Terschelling kinship is the bond of some to their family cottage up north. But Skylge goes deeper than that for those like us who are not Johnny-come-lately tourists. The de Jongs, though not living on the island anymore, love the life that belongs only to native islanders.
For the Terschelling expats though, bittersweet comes with the territory. Herman de Jong saw it in his father's homesickness and in his own, 'pitifully crazy' dreams about the island. There is a price for such love. Though it is freely given it also 'owns' you.
In 'bittersweet' and in 'homesick', the one half cannot be without the other -- there can be no bitterness or sickness if the home is not sweet, or sweetness if you don't feel at home. Of course you can avoid this tension by staying put, but then how sweet would it be? Perhaps the familiarity that comes from being not-absent moves the heart away from fondness. Would Hinne and Herman have chafed at the bit if they, by some stroke, had remained Terschelling in-dwellers?
For Hinne and Herman, Terschelling was never out of reach, but never fully attained. Perhaps then my father was unlucky to be so tantalized by this island, an ocean and half a continent away. Wouldn't it have been better to forget about it and focus on pleasures nearer at hand?
I think not, for it is the unreachables that truly become us. By our very nature we cannot have it all. Whatever we draw, or claw into our grasp ultimately leaves us looking for more. Only when we recognize that the islands of delight we experience now and again are but moments in an ocean of grace do we catch the wonder of God's gift to us.
It is God who is our all. His creation is so much more than we could ask or imagine, and we are destined to be fully open to its rich complexity. It's not for us to be stuck in a rut, satisfied, for God soon prods us to look out and up, deeper and beyond to the abundance of being one creature within a vast creation. Neither heaven or new earth will quell this hunger within us, but they will open our hearts and minds to each new satisfaction and its Source.
For us, Terschelling is one island in a world of being and a taste of how it should be -- always there but never enough, a home to visit, a sunny place when it is raining, a past with future and an old place to be new. It does not simply distract us from our ordinary lives but gives us hope that the extra-ordinary is possible and the desire to let it happen. And it gives us the patience to wait, even in difficult times, for the unbridled joy that Hinne and Herman have gone home to.
by Henry J. de Jong