A Family Gathering
The 2023 Vander Laan Reunion in Stadskanaal is the center piece of our summer. Aside from renewing family ties, which we've done more or less every four years, this return to the Netherlands seventy years after immigration gives everyone opportunity to explore cultural roots as well.
Digging around for attractions to recommend has brought countless YouTube videos into my path. Most of them are worthwhile, but some more than others. These I set aside here, for our reference and enjoyment.
By clicking the Title link you can watch the video in it's full context (often with some preliminary ads). Or you can open the lightbox video player and skip the ads by clicking the picture.
For more personal, background information about the places we'll be and see, I recommend the account by Harry van der Laan, listed in the sidebar (or way below on a mobile device). Then of course there's also "The van der Laan Venture" book which many possess and which is also available on this website.
Bouwhistorie landgoed Fraeylemaborg Slochteren
This is a great overview of the "borg" history, going back to the 13th century, showing developments from a simple structure to its current state. The Dutch is spoken clearly, and many of the images speak for themselves, so give it a try.
The Battle of Groningen (1945) – The Last Major City Battle during the Liberation of the Netherlands
This is a good reminder of how close the fighting was to Wedderveer and the van der Laan family. Narrated in English.
It's fun to watch this whimsically animated history of the "borg", narrated in Dutch. even if you don't understand the language.
Groningen Historical Background
Groningen's large university student population is the target audience for this English narrated overview of the city.
This promotional film is aimed at the Dutch tourist market, but its production qualities are good and the imagery and re-creations stand on their own.
Waarom ligt Westerwolde eigenlijk in Oost-Groningen?
The young museum archivist reminds me of my son, but he's talking Dutch in this friendly tour of museum archives, so you won't get it if you don't speak the language. Impressive museum vault though.
This is an excellent view of the Synagogue and its history with English subtitles. Most startling to me is that it was used as a laundromat after the Second World War.
Stadskanaal-Veendam Museumspoorlijn STAR 27 december 2015
There's no narrative to this video – just wonderful clips of the steam train in action.
Westerbork Synthesis Radio Telescope (WSRT) and APERTIF
This fairly technical overview of the Westerbork installation is done by multiple participants in English.
Herinneringscentrum Kamp Westerbork
This is an English narrated and subtitled overview of the reality of Camp Westerbork.
WWII, Deportation Kamp Westerbork in early 1943 in color! [AI enhanced & colorized]
This is a very affecting collage of German propoganda/documentary clips showing real people exactly where an empty memorial now stands.
More?
Please do suggest additions for this collection.
Related Posts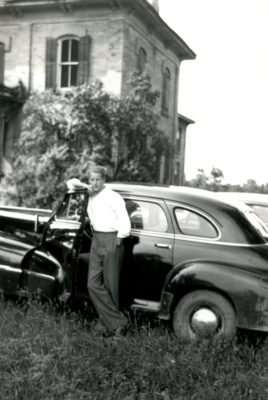 An Improbable Trajectory. Harry van der Laan's own story - Part 1: "… a little bit of fire" - 1936 – 1955
About
Newmaker Notes – writings, photos and collections – by Henry J. de Jong.
Newmaker is the spirit that drives a lifetime of creativity, and is a reflection of the Creator who continues to make all things new.