Genevan Psalms
A Personal Journey,
February, 2011
I stand in awe of the work of David Koyzis and Michael Owens, who caught the spirit of the Genevan Psalms and persisted with exploring, developing and sharing their passions through extensive web sites. My own journey has been more casual, only touching here and there again, yet always a part of me and always drawing my eyes and ears back along the long road and to an uncertain end.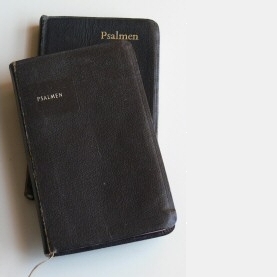 This comes, very much, from being Dutch. My wife and I are eldest children, born in the upper fifties to recently immigrated (not yet naturalized) parents, and fully enveloped by then still Dutch church communities. For evidence of our continuity with the reformed churches of Holland one needs only look to our office bookcase. There, standing side by side, are two nearly identical, Dutch Psalmen books, one given to me for Christmas when I was ten years old, and the other given to my wife the following year on her ninth birthday. This seems rather poignant now, considering we (who were born and raised in Canada) had little occasion to use them - but then who else could be counted on to carry this torch, if not the first born.
Years later, I got from my grandmother a long list of psalm verses that she knew from memory. This is where the tradition breaks down, for I can't get through even one verse, in any language, without looking. Yet the songs that my grandmother once sang still speak volumes to me. In unexplainable ways, my parents and their parents have become a part of me, and this part I do not reject. Most clear to me is the influence of my father, the organist and choirmaster, who had Geneven psalms bred into his bones, and whose musicality still informs mine.
Of course, my love of music and singing goes far beyond the covers of one, small book of Genevan praise songs. I can scarcely imagine the reality of the numerous generations before the emmigration who lived from cradle to grave hearing and singing the same 180 songs that their great grandparents had sung. Knowing, as I do first hand, the sprituality and faith of my own grandparents, I cannot put this down as a numbing tradition but must humbly accept that they were enriched in ways that our own diversity precludes.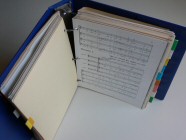 The Genevan Psalms finally came into their own for me when, as a Conservatory student, I had access to the U of T's music library and discovered the complete works of Claude Goudimel (1520-1572), a good deal of which is based on Genevan psalm tunes. A thorough examination of these ten volumes resulted in a two inch stack of photo-copies that has mostly languished in the same blue binder for thirty years, though I did for a time have the good fortune to play through a number of settings with a lunch time recorder ensemble.
Then, in the early eighties, when the Christian Reformed Church's new Psalter Hymnal was being formed I experienced the passion of Dr. Calvin Seerveld who got his students to sing the psalm versifications he was working on. I even tried my hand at versifying Psalm 42 and 43, which I published in a (very) limited edition of church music. Finally, my heritage called me back to the Netherlands where I studied church music for a year.
The birth of a son in my twenty-eighth year put a close to this chapter in my life, and I have had to be content since then with increasingly infrequent singing of treasured songs. It never even occured to me to give my children Psalm books for their birthdays. But now my hope is revived with arrival of The Psalm Project and the warm embrace that my own daughter has given it.
Henry de Jong, February, 2011
---
About: Newmaker Notes - writings, photos and collections - by Henry J. de Jong. Newmaker is the spirit that drives a lifetime of creativity, and is a reflection of the Creator who continues to make all things new.
---
---